Wow, I've been off this page for a while...
Sorry about that. I was actually hoping to make a grand return with my picks recorded on video, but I'm having some software issues.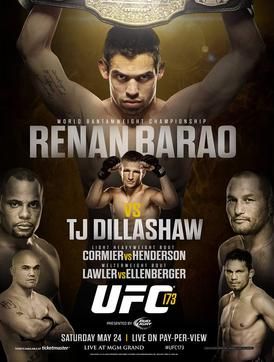 In any case, let's belt out the picks for these fights.
Renan Barao is defending his UFC World Men's Bantamweight Championship (that title just keeps getting longer!) against TJ Dillashaw in the main event. While I love that Barao is getting such a big main event, I'm concerned UFC isn't going to be too happy with this year's Memorial Day Weekend card in the buyrate department.
Barao isn't exactly a guaranteed finisher (though I think he will tonight) and his fights aren't competitive enough to get anyone hyped. And that's a real shame because Barao should be considered for the title of 'best fighter pound-for-pound on the planet' right now.
Dillashaw isn't a slouch, no doubt about that, but Barao is a freaking monster in this division. I'm really hoping he seeks out becoming a two-division champion soon. Until then, I see this fight being three rounds of domination before
Barao wins via KO 3.
In the co-main event, Dan Henderson is seeking one last run at a UFC belt in a de-facto No. 1 contender's bout against Daniel Cormier.
With Jon Jones having his rematch with Alexander Gustafsson soon, Hendo and Cormier are undoubtedly going for the next shot. And this clash of wrestlers should be fascinating.
Hendo has the best weapon outside of the wresting, in that he has a KO punch that could end Cormier easier than anything Cormier could throw.
However, Cormier has Hendo licked in wrestling. Not only is he better in raw skill in my view, but he's younger and has a better base to control Hendo's takedown attempts.
I certainly think Hendo could end the fight at any time, but I'll take
Cormier by decision.
Rest of the main card
I'll take
Robbie Lawler to beat Jake Ellenberger by KO 2
in a possible No. 1 contender's match. Ellenberger hasn't exactly been strong in big spots and I think Lawler wants one more crack at Johny Hendricks.
I've got
Takeya Mizugaki over Francisco Rivera by decision
in my pick for Fight of the Night (on the main card).
And lastly, I'll take Jamie Varner to represent WEC proudly by beating James Krause by KO 1.