So, wow! Did anyone else notice how much the co-main event for this card is over-shadowing the main event?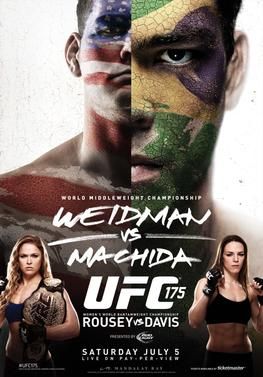 I mean, you've got this major fight between Chris Weidman and Lyoto Machida, where Machida is going for history by becoming the latest multi-division champion in UFC's storied history, and where Weidman is trying to establish himself as the big dog of the UFC's middleweight division.
And yet the whole week of hype seems to have been devoted to the other title match on the card between Ronda Rousey and Alexis Davis.
...
Ok, most of that hype has been devoted to the UFC World Women's Bantamweight Champion, Rousey.
If you don't think Rousey has become the largest marketable fighter in the UFC, then I implore you to look up all the coverage on ESPN and even in the media. And though I would love to hear more hype around the title fight that has a better shot at being competitive, I can't say that this hype isn't deserved.
Rousey is undoubtedly the most dominant force in any division in the company right now and is incredibly apt at selling herself to the media and casual fans.
It's a great sign for women's MMA that they have their own equivalent of 1980s Mike Tyson getting eyeballs on the sport and getting people excited about potential challengers and the advent of a new division.
But this isn't about the business of the pay-per-view event; this is about the fight itself. And yes, the co-main event is going first in this preview.
Rousey and Davis are actually not as big a mismatch as people will have you believe. Yes, Rousey is an Olympic judoka, but Davis is a BJJ black belt in her own right and has comparable, if not superior, hand striking skills.
The issue is that Davis is not a particularly strong wrestler, which means Rousey should have free reign over where the fight takes place. Rousey also has proven more capable of lower-body attacks, winning her last fight via a deadly accurate Muay Thai knee to Sara McMann's liver.
I actually really like Davis as a fighter and believe she's a legitimate challenger to the belt. Heck, she does have an outside shot of pulling a Matt Serra and stealing the belt because her punches and BJJ are good for flash-finishes.
However, I'm not going to be the guy who actually picks against Rousey's ever-increasing bag of tricks. I'm taking
Rousey via KO in Round 2.
In the actual main event of the night, Machida and Weidman bear a similar matchup situation to when Anderson Silva fought Weidman. Weidman's wrestling is the biggest advantage for either, but Machida does have an advantage in all other aspects.
However, the difference with this fight (and what I consider the difference-maker this time) is that Machida's striking style is more counter-based than aggression-based. For me, this means that Machida will be better at avoiding the pressure of Weidman and being able to properly evade the takedown attempts.
This is going to be a long fight, and both have real shots at finishing this fight, but I'm expecting it to go the distance and for exchanges to be shorter and spread out.
It will be a very technical battle, but I'm going with
Machida to become the NEW UFC World Middleweight Champion via decision.
Rest of the Main Card
Heavyweights: Stefan Struve v. Matt Mitrione -
It's a basic formula. Struve goes down in round 1, recovers, gets corner instruction, comes back strong in round 2. In this case, I think it's enough. Struve by submission in round 2.
Middleweights: Uriah Hall v. Thiago Santos -
Hall is a big-time up-and-comer and I expect this to be the point where he gets on track toward moving into the elite class of the division. Hall by KO 3.
Bantamweights: Russell Doane v. Marcus Brimage -
Brimage is debuting after dropping from 145 lbs. I'm expecting a long fight that goes the distance, though I'm not sure it'll be the opening bout excitement the audience is used to. Hope I'm wrong, though. Brimage by decision.