My sincerest apologies for allowing this blog to run dry! My main blog has taken up most of my focus the last few weeks.
Between Arrow reviews, comic reviews and the Lenten promise that was March of the Ponies, I've had very little time on this blog. But enough about those great articles that you should be reading. Let me take a moment to belt out my picks for tonight's Fox card!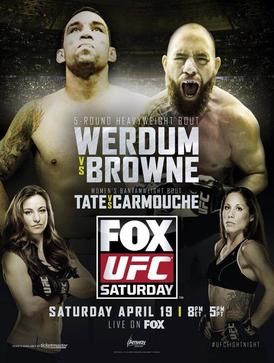 Main Event - Heavyweight Bout: Fabricio Werdum vs. Travis Browne
This fight is most likely going to create the next contender for the UFC World Heavyweight Championship, so it's a pretty big deal. And looking at the two, I'm going with
Verdum by Round 3 submission.
Don't get me wrong, Browne can definitely win, especially if the fight stays on the feet. That said, though, Werdum is a solid striker and I think if it goes to the ground, I like Werdum a little better.
This fight won't stay standing forever, and I trust Werdum's chin to get him to the ground portion of the fight, where he can end it.
Rest of the Main Card
Women's Bantamweights - Miesha Tate vs. Liz Carmouche:
The battle of females who got owned by Ronda Rousey will go to Carmouche by decision. Miesha showed me less than I'd hoped offense-wise last fight, and I think the shorter camp will affect her here.
Lightweights - Donald Cerrone vs. Edson Barboza:
This is going to be brutal. I expect this to be fight of the night unless an undercard bout stuns it. I also take Cerrone to get on a long roll again this year, so I'm taking him by KO 2.
Middleweights - Brad Tavares vs. Yoel Romero:
Romero is a tough dude who I'm hoping wins so he gets moved to the next echelon of fighters. Tavares is a guy who can shut anyone down and is, unfortuately, not above lay-and-praying. Yeah, I'll take Tavares by decision.