Well... that's one way to make me care about Luke Rockhold.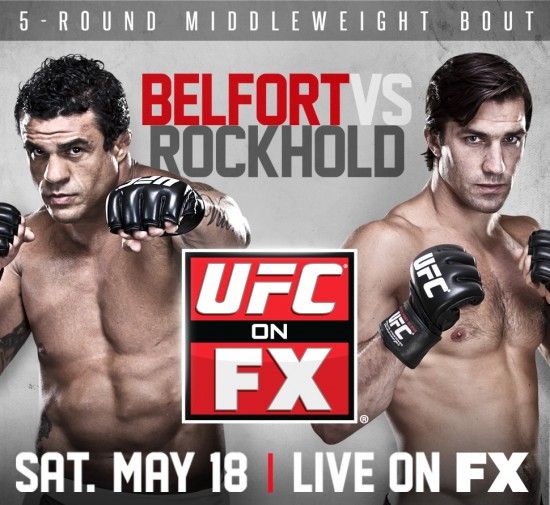 Strikeforce's final middleweight champion, Rockhold, has had an issue among my circle of friends that we, quite honestly, don't really give a crap when he's on our TV. Not sure why, he just bores us.
But his weigh-in for tonight's fight with Vitor Belfort, along with other interviews he's done in the build to this fight, have been entertaining stuff and I'm actually looking forward to seeing him test his skills in the UFC.
It's a fairly important fight too. A Belfort win would probably establish him as the No. 3 guy in the division behind the two fighting for the title. It would also make setting up title matches for Anderson Silva THAT much harder if he beats Chris Weidman.
A Rockhold win is definitely better for the UFC, as it would set up one title contender while they find another (probably the winner of a Hector Lombard-Michael Bisping match), but anyway, this fight.
Vitor is probably a slightly better striker, but given his history of gassing out, I'd say Rockhold has the advantage in a fully stand-up situation. Vitor's best strategy is to use his ground game and try to beat Rockhold the way he almost beat Jon Jones: by seeking a submission.
Rockhold is a well-rounded fighter in that nothing he does is elite. Vitor is well-rounded in that everything is really good to elite, but his gas tank neutralizes that if the fight goes too long. Once again, I think Rockhold's ability to hold out to the finish really means something, and I see
Rockhold winning a decision
over the long haul of the fight.
The co-main event is also in the middleweight division, as the guy Rockhold won his belt from, Jacare Souza, squares off against Chris Camozzi. If the fight stays standing, Camozzi could definitely win by exploiting Jacare's chin.
But the thing is, Jacare almost definitely is not going to trade with him. This is going to the ground sooner rather than later, and when it does, Jacare has this fight won. I've got
Jacare by submission Round 1.
Lightweight Bout: Rafael Dos Anjos v. Evan Dunham -
The division here is so deep that I almost forgot these two existed. That's actually saying something. Dos Anjos has looked better recently, and his ground game is great, so I expect Dunham to try to keep it standing, where the advantage is less noticeable. It won't help, though, and Dos Anjos is winning by KO 2.
Middleweight Bout: Rafael Natal v. Joao Zeferino -
I've got to go with Natal on this one. These two are about equals on the ground and striking, so to me, it boils down to experience, which Natal has more of in the UFC. I say he wins by decision.
Follow me at
twitter.com/seantherebel
and like my page at
www.facebook.com/SeanNetworkBlogs
.