Let me take a moment to reflect on the UFC World Lightweight Championship bout this past Saturday. Champion Benson Henderson retained by split decision over Gilbert Melendez in a UFC-Strikeforce unification bout.
I thought that Bendo won the fight. I gave rounds 2-4 to Henderson, and Melendez bookended the fight by winning rounds 1 and 5. The second and fifth round felt like the closest rounds in my view.
I don't think the fact that the judge scoring for Melendez worked with Cesar Gracie implies the fix was in necessarily, but it is a clear sign that the California State Athletic Commission has to put some more effort into their work.
The fight was close, but not a clear robbery, so I don't agree with an automatic rematch. I agree that Gray Maynard and TJ Grant's winner next month has a real claim, and honestly, I'd LOVE to see Melendez fight a fourth time with Josh Thomson for the No. 1 contendership next.
Talent in this division may not be separated by much, but it's clear to me that the best in the world right now is Ben Henderson.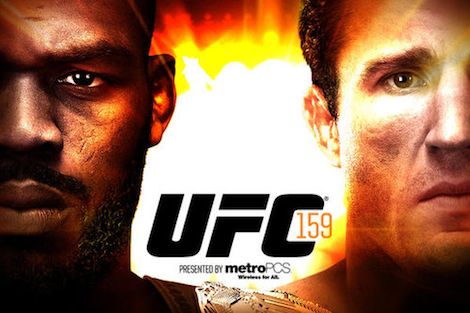 Now that we've gotten that out of the way, let's talk about the UFC event in New Jersey this weekend. The main event, of course, is Chael Sonnen finally getting his shot at Jon Jones for the UFC World Light Heavyweight Championship.
Sonnen has single-handedly made this an event worth watching simply because you want to see if he actually has anything that could threaten the champion. Unfortunately, I don't see that as the case. While I do see him as a slightly better wrestler, Jones won't be overwhelmed by the wrestling of Sonnen, which means he can try to submit him with his freakish legs.
Or better yet, he can stand up and force Sonnen to punch with him, which would not go well either. No matter how you swing it, this doesn't look good for Chael.
I'll say he makes it into the third round before
Jones picks up a Submission 3 win.
The co-main event may be a good setup for the next middleweight title shot, as Michael Bisping fights Alan Belcher.
Admittedly, the winner will need another win (I'm guessing against the Vitor Belfort-Luke Rockhold winner) to get a shot, but this is a good match-up regardless. Most likely, this will turn into a stand-up battle and will be a matter of who can take the other's shots better.
Belcher has proven to take strikes better, but Bisping has definitely faced a higher breed of striker. My difference-maker is that Belcher is somewhat more competent on the ground, although Bisping has the ability to lay-and-pray if necessary.
Bisping really should have waited to take a fight, and I say
Belcher by decision,
but then again, Bisping fights better when he can't overtrain, so maybe this will work out better.
Heavyweight Bout: Roy Nelson v. Chieck Kongo -
Both men like to stand and bang, and I expect that here. Kongo will probably land a higher volume of strikes, but Nelson doesn't drop easily (or at all). Because of that I think Nelson wears him down and ends up beating Kongo by KO 3.
Light Heavyweight Bout: Phil Davis v. Vinny Magalhaes -
Davis is definitely the better striker and wrestler while Magalhaes is slightly better in grappling. On paper, this should be Davis' fight easily, but the recent drama with Davis makes this a possible outlier. I'll still say Davis gets a decision, but be wary of picking the fight too firmly.
Lightweight Bout: Pat Healy v. Jim Miller -
Both men should put on a show here, but the fact is that Miller has proven to be more established. Healy was in line for a Strikeforce title shot, but I'm don't expect the Strikeforce wave of victories to continue this week. Miller's a true veteran and has been really impressive in his last few outings, so I'm taking him by decision.
Follow me at
twitter.com/seantherebel
and like my page at
www.facebook.com/SeanNetworkBlogs
.