I am NOT a happy person in spring. It always seems like my body develops all kinds of illnesses. As such, I'm going to be belting this blog out relatively quickly.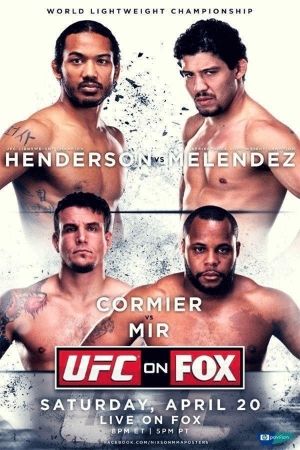 Gilbert Melendez has been babbling for a couple years now that he's the best in the lightweight division, and the annoying one FINALLY gets a chance to prove himself against the UFC World Lightweight Champion, Benson Henderson.
Melendez's best weapons in this fight will probably be his boxing and wrestling, while Bendo will be looking to use his tae kwon do and BJJ.
I happen to see Bendo as more dangerous on his feet, and if Melendez tries to trade with him, it will not be to his benefit. The best hope for Melendez is to hold down Bendo, but I'm not buying that as a viable option.
Ultimately, tonight will be a statement for the 155-pound division, and I'll take
Bendo by KO 3.
The co-main event is another UFC/Strikeforce clash between Frank Mir and Daniel Cormier. I'll admit, I had Cormier pegged here, but now I'm rethinking it.
Mir and Cormier will be roughly equal at wrestling, and Mir's BJJ is superior, so unless Cormier finishes him standing, Mir tends to have a match-up advantage here. As such, I'm picking
Mir by submission 2.
Lightweight Bout: Josh Thomson v. Nate Diaz -
Beating up Diaz brothers should become the new goal of every fighter in the UFC, as it makes me personally happy. Problem is that the Diaz brothers are really good, no matter how you swing it. I'm taking
Diaz's BJJ and ground game to win by decision.
Welterweight Bout: Matt Brown v. Jordan Mein -
Anyone else forget this fight existed? Well thankfully, this fight could be brutal. Mein got a HUGE KO win over Dan Miller, and here he is on short rest to fight a man on a four-fight win streak of his own? Nice! I'll take the guy fresher off a win here, and take Mein by decision in a probable Fight of the Night.
Follow me on
twitter.com/seantherebel
and like my page at
www.facebook.com/SeanNetworkBlogs
.