There's nothing quite like knowing the best in the world are about to throw down, and that is what we get tonight when Cain Velasquez fights Antonio "Bigfoot" Silva for the UFC World Heavyweight Championship.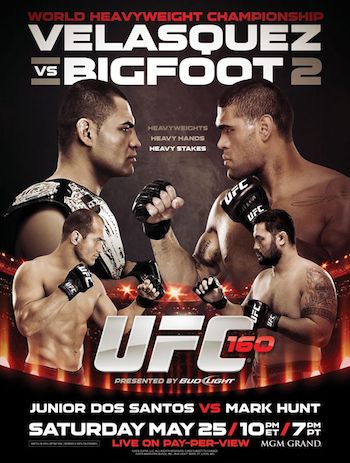 It is a historic night as well because most every listing of MMA's lineal heavyweight title connects the moniker to Silva, which means that for the first time in over a decade, UFC's best in the world will be "The Man."
As you probably realize, this is a rematch of a No. 1 contender's bout a year ago, where Cain brutalized Silva and knocked him out cold in the first round. But just because that happened before doesn't mean this fight is over before it starts.
Silva's jiu jitsu game is fairly solid for a guy his size, and he could manage a submission if he can overcome Velasquez's high-caliber wrestling. What's more, Bigfoot has hands of stone, so while his striking may not be as technical as Velasquez's boxing/kickboxing, it's proven more than sufficient to win. It worked on Alistair Overeem and it can work here.
All of that said, I don't believe Bigfoot can over come the wrestling Cain possesses, and I believe Cain is more than focused enough so that he doesn't allow Bigfoot the chance at a flash knockout. It is a matter of time before this fight ends in my opinion, and I see it being same result, longer time.
I'll take
Cain to retain by 3rd-round TKO.
If he wins on ground strikes again, I'm not shocked in the slightest.
The co-main event could very well decide the next contender for this belt, as former champion Junior Dos Santos fights Mark Hunt, who has been on the roll of his freaking like recently.
Hunt wants a title shot if he wins, but that is a tall order when facing a guy with elite boxing and legitimate BJJ skills. Hunt has decent takedown defense, but not to the extent that he'll keep it standing all the way through, and when he goes down, he'll lose at least one round.
As for striking, both have knockout ability and both have good chins. I'd say JDS has a slight edge, but it's not significant. But the ground game is here, and I have
JDS by decison
to force the final leg of a Cain-JDS trilogy.
Light Heavyweight Bout: James Te Huna v. Glover Teixiera -
I'll admit, James Te Huna has proven to be one heck of a prospect. He's been on a roll much like Mark Hunt, but once again, I feel like the man has bitten off a little too much here.
Teixeira is a freaking beast whose proven to have elite stand-up and ground skills. Both men could be something in this division, but Teixeira could pursue title shots in the near future, and I don't see that getting derailed here. Teixeira by decision.
Lightweight Bout: Gray Maynard v. TJ Grant -
In effect, this is the lightweight division's next title shot coming in this match. And I'm good with that. Grant has looked great since dropping to 155, and his stand-up could be an advantage.
However, he has weak takedown defense, and until recently, Maynard was the king of lightweight lay-and-pray. This fight could very well be boring beyond belief, but Maynard will win by decision and get a shot at Ben Henderson.
Lightweight Bout: Donald Cerrone v. KJ Noons -
Yeah, this is going to kick some serious ass. Both men can go on their feet and BANG. Cerrone's style may not be pretty, but it's gotten him in the upper echelon of this division. The X-factor is whether Noons is following in the Strikeforce guys' footsteps of coming in hyper-focused and ready.
Honestly, even if he is, it's hard for me to say anyone outside of the highest level of the division is beating Cerrone, so I'm taking the Cowboy by KO 1.
Follow me at
twitter.com/seantherebel
and like my page at
www.facebook.com/SeanNetworkBlogs
.