Nothing like writing a blog in the middle of the night because UFC is running an event in China that's due to start at sunrise.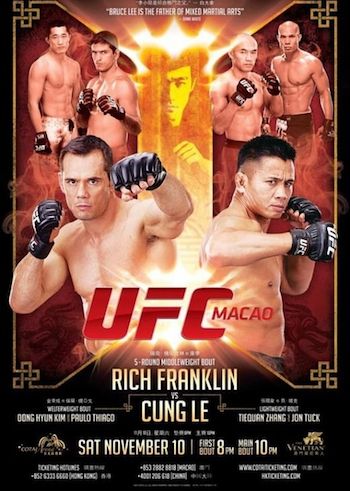 Seriously, I set a freaking alarm to do this, so I hope everyone appreciates that I took time out of my incredibly busy week to make picks for this thing. Heck, I probably won't see it for a while now because there is no chance that I'm getting up early to watch this. I'd like to actually be alert for sparring class.
Anyway, mini-rant over. Let's talk about the Middleweight Main Event between Rich Franklin and Cung Le.
I would definitely expect Le to try to win via KO in the first two rounds because A) He's the home-nation hero, and B) He lacks the cardio to face a high-level athlete like Franklin for 25 minutes.
This match really has no title implications and pretty much exists because it's big names for UFC's China debut. Franklin might have enough left in the tank to make one more run, though, so he knows he can't afford to lose.
Le could easily win with his dangerous kicks, but time is his enemy in these fights. I say it goes to the main event rounds, but Franklin is a wrestler, and at some point in the fight he will wear Le down to nothing.
I say that
Franklin wins by submission in Round 4.
Additionally, the co-main event features light heavyweights Thiago Silva and Stanislav Neklov.
Nedkov is a fun person to watch with his brawling style and undefeated record, but besides being limited in style, he hasn't fought in 14 months. Ring rust will be a problem early.
Silva has not been very impressive himself recently, but is a threat to anyone in the division if his power lands clean.
I think he'll have an opportunity to win with a big strike here, and
Silva will pick up a KO 2 victory.
Rest of the Main Card
Welterweights: Dong Hyun Kim v. Paulo Thiago -
Ah, the match between two guys whose recent losses have them desperate to win and keep relevant. Kim has great throws and can fight well from the top as well as standing, while Thiago strikes well and can fight from the bottom.
This has the makings of either a good fight where Kim takes a decision, or a lay-and-pray fest where Thiago presses Kim against the cage gets him down and just holds Kim, whose bottom game is weaker. I am the optimist, though, and will take Kim by decision.
Lightweights: Takanori Gomi v. Mac Danzig -
Remember when these two were relevant? Yeah, me neither.
It's hard to believe Gomi was the PRIDE FC Lightweight World Champion when the company closed, but all hopes of a unification bout have been shattered, as it would require Gomi to be in a title match. That said, they have given him a guy who is 5-5 in the Octagon and is just as much of a disappointment.
It's a terrible match that may turn into a fun brawl because neither is that good. As such, I think Gomi gets a KO 3 victory because he has the only real knockout power in the fight.
Lightweights: John Tuck v. Tiequan Zhang -
Tuck is an interesting prospect who, despite being undefeated, could not fight his way into the Ultimate Fighter House. Zhang is a 1-2 in UFC disappointment who is clearly getting what they hope is a squash match so they crowd can go home happy with a result.
That said, Tuck honestly does have more of a complete game, and for that I have to give him the edge to eke out a decision.
Bantamweights: Takeya Mizugaki v. Jeff Hougland -
I almost forgot Mizugaki was still fighting. It's been a while. Hougland is a good grappler, but he's not supreme. This is really a way to get Mizugaki on track. I have Mizugaki by decision.
I hope Macau enjoys their UFC debut card, and I hope the fans not in attendance read this!
I also hope that you follow me at
twitter.com/seantherebel
and Like my page at
www.facebook.com/SeanNetworkBlogs
.