I'll admit right now: I really like this main event, but really have no feelings one way or the other toward the rest of the card.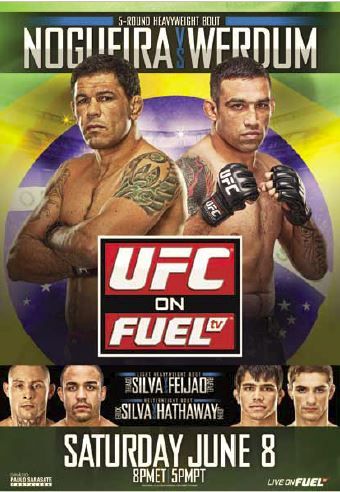 It's great that the UFC has finally figured out that their lower cards need a pretty nice headliner in order to bring viewers in to see their up-and-coming talent, but nonetheless, it's still a challenge to get people energized for a card in which most of the fights don't feature common contender names.
The main event, though, is a good one here, as Fabricio Werdum and Antonio Rodrigo Nogueira face off for the right to be one step away from a title shot (most likely, although rumors now lead to the winner facing Daniel Cormier in his heavyweight swan song).
The two faced off once in PRIDE and Big Nog wiped the floor with Werdum, but a lot has changed since then. Werdum is a far better striker and an absolutely stronger grappler compared to that time.
Big Nog, meanwhile, has gotten older, even if his performances haven't indicated he's going to slow down just yet. Minatauro understands that if he wants one more run at the belt, he has to win here.
That said, I think the generation has passed him by at the elite level at least. I see Werdum's cardio as a major factor and I think time on the ground favors the "Man who beat Fedor."
He isn't about to submit him, though. Big Nog is still too good for that. But I still have
Werdum by KO in Round 3.
Rest of the Main Card
I'm just going to save us all some time and belt through these quickly.
Welterweights: William Macario v. Leonadro Santos -
TUF: Brazil 2 finale fight... I've got nothing. Feel free to discuss in the comments if you care.
Light Heavyweights: Thiago Silva v. Rafael Cavalcante -
A fight designed to get a KO if I've ever seen one . I'll take Cavalcante in Round 2.
Middleweights: Daniel Serafian v. Eddie Mendez -
Strikeforce guys have had a good record since the merger and Serafian lost to CB Dolloway, so... Mendez by decision.
Welterweights: Erick Silva v. Jason High -
Kudos to High for stepping in here, but even with limited prep time, Silva is legit. I give him a submission 2 victory.
Featherweights: Rony Jason v. Mike Wilkinson -
I'll take the Season 1 TUF Brazil stud (Jason) by decision on the grounds that no judge seems to have the balls to vote against a Brazilian in Brazil.
Follow me at
twitter.com/seantherebel
and like my page at
www.facebook.com/SeanNetworkBlogs
.