This year marks the 20th anniversary of UFC 1, and after nearly two decades of work, the sport of MMA has finally expanded to include two genders at its highest level.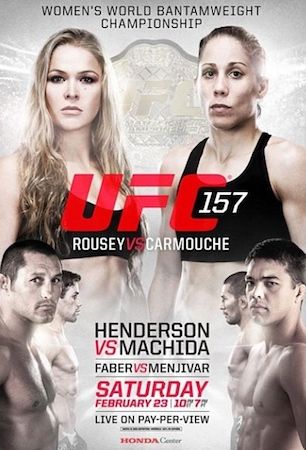 The UFC World Women's Bantamweight Championship has risen from the ashes of the ancient bird that was Strikeforce, and Ronda Rousey has emerged as the initial champion. This will be her first title defense, as she faces off against Liz Carmouche.
Carmouche is a history-making athlete herself, being the first openly gay fighter in the company's history. It's only fitting that she headline such a monumental event.
That story, however, is being forgotten in the ocean of fan interest that has joined Rousey. Various people currently in California for the event have noted that the media has almost forgotten there are other fights on the card. Carmouche gets a few questions, but pretty much the whole world is focused on the champion.
While a little excessive, it's hard to say Rousey hasn't earned it. She was the first female to medal in Olympic judo for the U.S., taking a bronze in 2008. She has finished every fight in the first round via armbar submission. She is drawing comparisons to Royce Gracie's run at the start of UFC.
And I get why. Rousey, for all her skills, is still rather limited. In the few stand-up exchanges she shared with Miesha Tate and Sarah Kaufman, she was pretty clearly getting the worse end of the exchanges. Much like Royce with BJJ, Rousey has really dominated using one style.
As such, the strategy for the former marine is obvious: Keep the fight standing. If Carmouche can keep the fight on the feet, it will be on Rousey to prove she has rounded out her game.
I do think she can do it for some time, and I say the fight goes a little better. With the volume of people wanting to help her, I'd guess she's miles farther along than she was when she lost back-to-back against Marloes Coenen and Kaufman.
However, she has proven vulnerable on the ground before and it really is a matter of time. I will say this fight leaves the first round, but
Rousey will win by submission in the second round.
The co-main event, long since forgotten by the media, is the probable No. 1 contender's bout between
Lyoto Machida
and
Dan Henderson
.
Hendo has talked up a big game and clearly wants the title shot, but the long layoff may well be the issue here.
It doesn't help that his style really never became more dynamic than boxing and wrestling. I mean this guy barely even kicks. It may be effective in Strikeforce, but not here anymore.
Machida can hit from every angle and is still dangerous on the ground as well. I'm going to say that by
Round 3, Machida will win by KO.
Bantamweight Bout: Urijah Faber v. Ivan Menjivar
Faber has been on a skid in big fights lately, while Menjivar has quickly become one of the most fun fighters to watch in the company.
Menjivar will probably go to the ground in order to gain an advantage, but he can hold his own standing as well. Problem is, Faber is prolific in every facet of the sport as well.
I do believe Faber is near the top of this division. If Menjivar wants to prove himself, great, but until then I have to go with
Faber by decision.
Rest of the main card
Welterweights: Court McGee v. Josh McNeer -
In a fight that can only be described as "the one that fills out the card," McGee is an up-and-comer while Josh Neer is... there.
He's lost two straight and I would expect, after he loses by decision to McGee, that he will be one of the near-100 cuts UFC makes.
Welterweights: Josh Koscheck v. Robbie Lawler -
It's over-talking douche versus uncharismatic bore! Well, in all likelihood there is more interest here.
Lawler has moved down to 170 after proving incapable of winning big at middleweight anymore, and he will need to keep the veteran Koscheck guessing in order to win. That said, I think he can pull it off, so I'll take Lawler to pull the upset by decision.
Follow me at
twitter.com/seantherebel
and like my page at
www.facebook.com/SeanNetworkBlogs
.