The UFC World Heavyweight Championship returns to action this week, as Cain Velasquez and Junior Dos Santos enter the cage together for the third time.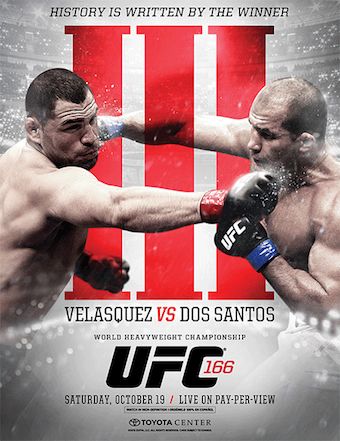 When two fighters have met twice already, it becomes a little easier to analyze what each man has to do to win, and so I'm assuming most everyone is feeling pretty confident about their pick. I am as well.
I'm taking Cain. I'm giving him a third-round KO win.
Looking back on the first two fights, JDS definitely has the advantage when it comes to sheer technical boxing abilities. He landed a clean strike early in his first fight with Velasquez and got a title reign out of it.
Even so, Cain possesses legitimate striking prowess himself, and he has more power. Add in that his submission grappling game is solid and he has a high-level wrestling pedigree, and it's hard to pick against him.
JDS does have a ground game of his own to brag about, but to me, there are just too many weapons in place for Cain to take advantage of. If Cain loses, it will be the result of getting caught by a clean strike and it will probably be in the early to middle rounds.
I'm expecting a pretty solid buyrate for this fight as well. Not only because it's the rubber match between undoubtedly the two best fighters in the heaviest division, but because there is a solid rest of the main card.
Daniel Cormier will fight Roy Nelson in the co-main event, in what will be his final fight at heavyweight. I'd be lying if the most interesting aspect of this fight is whether or not Cormier will be as strong with his weight cut.
Quite honestly, the cut is really the only thing that has me wondering if he'll win here. He's proven to me that he outclasses Nelson, but there is a 25-pound difference here.
Still, I have to give the edge to Cormier. He should still be able to dictate where the fight goes, and while Nelson is dangerous on the ground and impossible to knock out standing, his offensive stand-up isn't as great. This is where Cormier will take advantage, and I see him earning the decision.
Rest of the Main Card
Lightweights: Gilbert Melendez v. Diego Sanchez - Melendez has a REALLY irritating ego and I'd love to see him get smacked around. Not happening, though. He'll beat Sanchez by KO 2.
Heavyweights: Gabriel Gonzaga v. Shawn Jordan - THREE heavyweight fights? Has UFC learned nothing from their all-heavyweight card? Well, anyway, Jordan has earned the right to call himself a rising star. I think he's good enough to get a decision off of Gonzaga.
Flyweights: Josh Dodson v. Darrell Montague - Oh, I guess they did learn. Putting 125-pounders who aren't the lay-n-pray champion is always a good way to start. Montague brings one heck of a resume into the UFC, but I think he gets overwhelmed by the stage. I'll take Dodson by decision.
Hope everyone finds time to watch this one!