Nothing about the in-cage portion of this main event had me interested throughout most of the PPV buildup.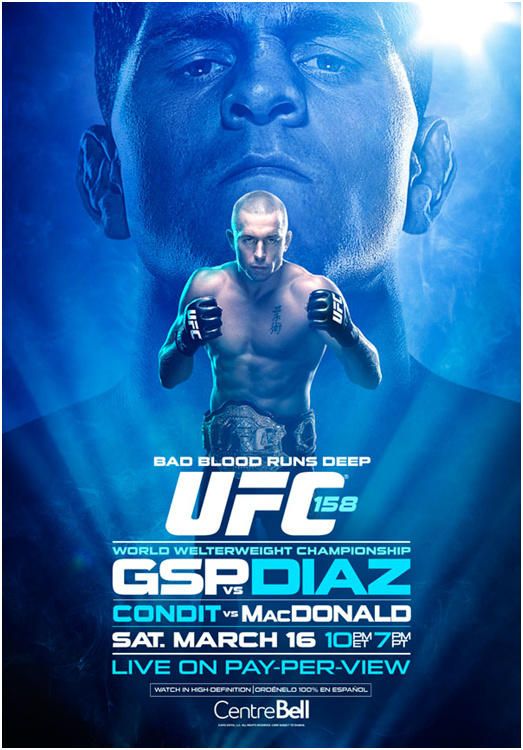 Like many, I felt Johny Hendricks had earned his shot and that Nick Diaz was simply wasting all of our time by making Georges St. Pierre burn months of training on yet another title match where the result was obvious.
And then the conference call happened, and all hell broke loose.
All I can say is that Nick Diaz needs to go through marijuana withdrawals WAY more often because the last couple weeks have been some entertaining sh**.
Now don't get me wrong, this fight still isn't that great. I'll still be going to see Flogging Molly perform live instead of watching the card and I still firmly expect
GSP to win by decision
and that's assuming the UFC World Welterweight Champion doesn't decide to just publicly bury the psycho.
But with all that said, Diaz has sold this card in ways that I didn't think he could, and he did it by simply being the total douchebag he is.
Between calling GSP a pampered wimp and accusing him of steroid use, Diaz has managed to piss GSP off enough that I honestly think he might try to finish a fight for once. That adds the little bit of intrigue necessary to ensure hundreds of thousands of people put money down for this farce of a title match.
Welterweight Co-Main Event: Johny Hendricks v. Carlos Condit
It will be a battle of Condit's wrestling and Hendricks' knockout power here, but that is really insulting to both for me to say that.
Obviously, Condit is a proven striker in his own right and is more than capable of finishing off opponents. Likewise, Hendricks has a good grappling background and could definitely defend himself and finish off an opponent from the ground if he needs to.
I just happen to think these two will dance with the ones that brought them. And in that situation, Hendricks, who is hell-bent on earning the shot he earned, has the edge. I expect
Hendricks to earn yet another KO 1 victory.
Welterweight bout: Jake Ellenberger v. Nate Marquardt
They might as well have called this UFC: Welterweights because that's all that make up the meaningful matches on the card.
This match could probably decide a participant in the next No. 1 contender's match, and this will most likely be a stand-up match.
Sadly, both men have a habit of blowing big spots, like Ellenberger's match with Kampmann or Marquardt's title defense on the last Strikeforce card, so it could be that it's a battle of who messes up first.
I have to think that Nate the Great's size is a difference-maker, so I
will take him to win by decision here
, but I'm not feeling good either way in this one.
Rest of the Main Card
Middleweights: Nick Ring v. Chris Camozzi -
This will not be a pleasant viewing experience. Camozzi can be prone to getting caught on the ground, but Ring isn't a great finisher. I'll take Ring by decision, though.
Lightweights: Mike Ricci v. Colin Fletcher -
Whose TUF loser is more pathetic, USA or UK? Better yet, why is this opening a PPV card? Well, Fletcher's striking style is abnormal and he can wrestle, which is usually a good combo in order to win a dull fight, so I'll take him by decision.
I think Dana White is looking to put boring fights early on the card so that GSP looks compelling by comparison. Oh well. We've got some good cards coming up.
Follow me at
twitter.com/seantherebel
and like my page at
www.facebook.com/SeanNetworkBlogs
.