I've not been super excited about the fights of 2013 so far, but that finally changes tonight.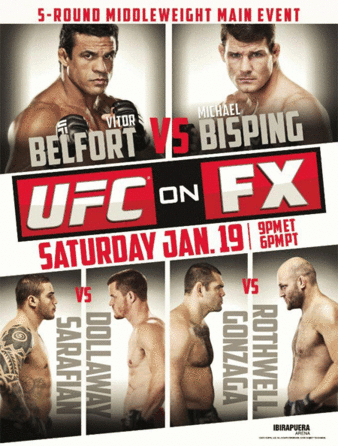 The main event over in Sao Paolo, Brazil tonight is a No. 1 Contender's bout between middleweights Michael Bisping and Vitor Belfort.
Is it just me, or is Belfort getting a lot of opportunities recently?
Then again, he honestly has earned it. The only reason he isn't UFC World Light Heavyweight Champion right now is because he didn't feel the need to go full-crank on Jon Jones' arm and break it.
Bisping, on the other hand, has claimed for quite some time now that he can be the one to beat Anderson Silva. I personally don't buy it, but he's once again only one win from having the chance to prove it.
Bisping is very well-rounded as far as a striking and wrestling combination goes, and Belfort is strong both at striking and grappling. If Bisping chooses to take this fight to the ground to cut the KO risk, his good submission defense will be tested by Belfort's BJJ black belt.
Another issue will be Belfort's veteran ring-savvy vs. Bisping's cardio. Belfort is a far better fight strategist than Bisping, whose techniques are very straightforward, but Belfort has never been good in long fights whereas Bisping goes the distance all the time.
I can't see this fight ending that quickly, which means Bisping should be able to control the latter stages of the fight. As such I'll take
Bisping to win by decision.
Middleweight Bout: Daniel Serafian v. CB Dollaway
If any fighter has squandered more potential in the last three years than Dollaway, I don't know of them. This man looked like a machine on TUF, but has not panned out the way anyone expected him to.
Serafian is an undefeated TUF: Brazil prospect who looked pretty impressive in the one time I've seen him. (No, he didn't win. The tournament isn't sanctioned and he lost in the semis.)
Although Serafian has proven vulnerable in standup, I don't see Dollaway as skilled enough to take advantage. All he has is wrestling with no submission defense, and against a BJJ fighter like Serafian that is a disaster waiting to happen.
I'll take
Serafian by Round 1 Submission.
Rest of the Main Card
Heavyweights: Ben Rothwell v. Gabriel Gonzaga -
It's a battle of two inconsistent fighters here. Both are coming off wins, but neither has put a great deal of consecutive wins together recently. That said, while both have standup success, Gonzaga has a better ground game and that makes the difference.
Gonzaga by decision to win his third straight.
Lightweights: Thiago Tavares v. Khabib Nurmagomedov -
Should be a fun opener. Both are great grapplers, but Nurmagomedov has been more proven in standup fighting. I'll take him by decision.
As I said on the Strikeforce preview, my 2012 record was 168-113-1 (103-66-1 UFC). That's a 60 (61) winning percentage, and after a 2-3 Bellator showing, I enter the first UFC card of the year with a 6-4 overall record. Let's see what my first UFC picks add on.
Follow me at
twitter.com/seantherebel
and like my page at
www.facebook.com/SeanNetworkBlogs
.