Tonight is yet another chapter in the UFC's network broadcasting deal, as they air a free World
Flyweight
Championship fight between Demetrious Johnson and Josh Dodson.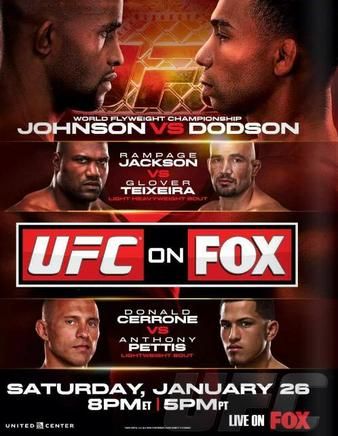 The ONLY UFC ad with the weight class
mentioned.
Why is the word flyweight cut out? Well for those who didn't get spammed by all the UFC ads during the NFL playoffs on Fox, not once in those advertisements did the weight class get mentioned. The term "world championship fight" was used, but no ads mentioned the weight and neither did the announcers (who, honestly, didn't do a great job of sounding energized to hype the fights either).
I get that it's the lightest weight class, but come on people. The public really needs to get over this "they're not interesting" crap. The lightest weight classes' fights never stop moving, usually have more spectacular moves and usually are guaranteed to go a while to give you your money's worth.
As someone who only weighs in the 130s himself, I find it unsettling how little interest is shown by fight fans about title fights below welterweight.
Ok, so mini-rant over. Now to the fight. Dodson is about as well-rounded of fighters as you can get, whereas Johnson prefers to stick to boxing and wrestling when possible.
That said, Johnson executes both at a high level, and has only lost twice (both at bantamweight). Both are a threat to finish by knockout or submission as well.
Looking at the fight as a whole, I don't think either guy has a huge advantage, but I will say that Johnson has the edge
and he will win by decision.
The co-main event of
Quinton "Rampage" Jackson
against
Glover Teixeira
is a clash where Rampage should be able to win if motivated... but that's a big if.
Rampage is in the last fight of his contract and he has no intention of staying with the UFC after this. The guy still has some good wrestling and an excellent set of punches, but that's about it.
Teixeira has the ability to pass guard and grapple as well as a good clinch game, which puts Rampage in a bad position. That said, Teixeira has taken hits from guys and I'm not sold on him as elite.
It's the fight he wants to make a statement with, so I'll say that Rampage goes harder than I've seen. But given that Forrest Griffin has poked huge holes in this guy's game, I'll take
Teixeira by submission in Round 2.
The final fight of note on the main card is a lightweight showdown two years in the making,
Donald Cerrone vs. Anthony Pettis.
This had been a No. 1 contender's bout until Gilbert Melendez's undeserving behind took the spot, so the winner may end up needing one more victory.
Both of these guys are incredible strikers and it really is tough to pick. I'd rather just stand around and watch this thing unfold, but I know you all need a pick. Since this is a tossup, take the one with worse odds at your betting place of choice, but as for me, I'll say
Cerrone picks up a decision.
Featherweight bout: Ricardo Lamas v. Eric Koch
This could wind up determining the challenger for the title after Jose Aldo and Frankie Edgar fight next week, so pay attention. Both are riding high at the moment, but Koch has been on a long, long layoff.
Look for ring rust to be a big deal, and for Lamas to use his BJJ to pick up a
Round 3 submission win.
2013 Record: 13-6 (2-2 UFC)
Follow me at
twitter.com/seantherebel
and like my page at
www.facebook.com/SeanNetworkBlogs
.