Hard to believe, but this is officially the 100th blog that I have published on this page.
Some of it trends back to when this was the World's Extreme MMA and Wrestling blog, but nonetheless, there are 100 blogs now listed that you can reference on this MMA blog page.
I do want to take a moment to thank all those who read this blog regularly, and out of respect for all of you, I am giving you two gifts.
1. I'm publishing this a early on so that you can have ample time to place bets in actual casinos if that's what you come here for. And 2. I'm making picks for ALL the fights on this card. Some won't get full previews, but I'll give some commentary on all the main card fights and a portion of undercard fights.
So with that, let's talk about the fight that we've all been waiting months for: the UFC World Welterweight Championship unification bout between main champion Georges "Rush" St. Pierre (22-2) and interim champion/final WEC Welterweight Champion Carlos "Natural Born Killer" Condit (28-5).
I'll make this statement right now: I am really, really rooting for Condit to win this. It's not necessarily that I prefer him to GSP; it's that Dana White seems focused on making GSP-Silva a reality.
While I like that idea for a fight, the welterweight scene has been on standby for about a year now, and if Silva fights GSP in May, there's a good chance that another year of this crap is going to happen.
But while I'd love to just peg Condit as the winner, GSP's abilities make that impossible. So let's go through the fight.
GSP is about as well-rounded a fighter as you can imagine. The man is not only a near-Olympic wrestler, but he has four (yes, FOUR) both in stand-up and ground styles (karate and BJJ being the respective notables).
That said, GSP has not found much use for his non-wrestling abilities in his more recent fights, choosing instead to hold men down with wrestling and occasional grappling. While I firmly believe all of his elements are still strong, not using his striking often in live situations may come back to bite him.
This is especially true with Condit, whose stand-up may well be a match for GSP. He has a boxing, kickboxing and muay thai background, and he's become well-known for finishing fights.
His BJJ brown belt means he can handle himself on the ground, though GSP probably still has an edge.
Where Condit will have issues is with his wrestling. He's pretty well accomplished offensively, but until recently, he had struggled with takedown defense. This has to come into play against a wrestler of GSP's caliber.
Condit, however, should have the edge in terms of stamina and readiness, as GSP had to spend a good portion of the camp getting back used to working with his knee.
Ultimately, this fight will come down to whether the fight stays standing or goes to the ground. If it stands, I think Condit may have him. If it's more ground-based, Condit will need to use all his skill to break GSP's control.
Although I'd love to say Condit (and at +240 he is the smarter bet to place in what could be a tossup fight), I have to give
GSP the nod by decision.
He's the best in the world for a reason, and I expect his to show why.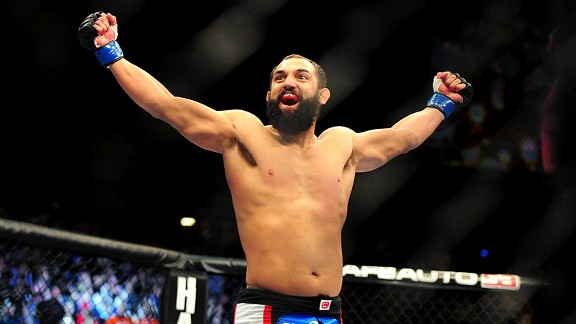 Let's move on to the
co-main event, which is a glorified Welterweight No. 1 contender's bout between Johny Hendricks and Martin Kampmann.
This is why I don't want GSP to win. These guys have been working their butts off for a while now in order to earn spots in the title picture, and I'm NOT cool with making the winner of this fight wait.
Heck, if I were the winner, I'd take a seat ringside and say that I wasn't leaving tonight until Dana White guaranteed me a match. (Well, I probably wouldn't do that, but I imagine it in my mind.)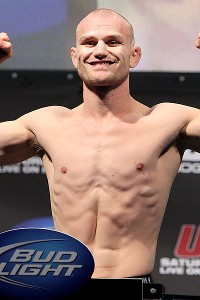 Anyway, it's a similar setup here. Hendricks is considered the favorite despite being three inches shorter than Kampmann. (Condit towers over GSP too.)
Kampmann's muay thai knees are going to be needed, as will his defensive wrestling tonight. Hendricks will probably look to get some takedowns set up after tagging Kampmann.
Kampmann could very well be vulnerable to Hendricks' ability to knock Jon Fitch out with a single blow, and supposedly Hendricks has been working on making his right as dangerous as his left, so that's something to look for.
Neither bet is a good one, with Hendricks a -145 favorite and Kampmann a +115 underdog. I could see either man win here, but Hendricks feels more complete and more focused. Plus, he has a grudge on Kampmann from their Xtreme Couture days.
I'll take
Hendricks by KO 2.
Middleweight Bout: Francis Carmont v. Tom Lawlor
Both men are looking to make a step up to the title picture with this fight. Lawlor is coming off KO of the Night honors against Jason MacDonald at the Zombie-Poirier card, while Carmont is on a roll, winning all three of his UFC fights and his last eight overall.
Lawlor works with a branch of the Lauzon Brothers' MMA team and has a blue belt in BJJ, while Carmont looks also to grappling but learns from GSP.
I feel like both men will end up standing, and I'll give
a decision win to Carmont
due to his momentum as well as the fact that the French Canadians in the crowd will likely give the Frenchman some energy boosts.
Middleweight Bout: Nick Ring v. Costa Philippou

UPDATE:
MMA Junkie reported that this has been pulled from the card. The Bocek-dos Anjos fight (Below) will replace it on the main card.
ORIGINAL:
Ring has some great muay thai and BJJ skills in addition to only having one loss in his entire career, but Philippou has been on a tear since blowing his first UFC fight and is a larger fighter due to his time at light heavyweight.
Both men like the ground, but I think Ring will opt not to leave things to chance by keeping things standing. Problem is, Philippou likes to win by knockout as well.
This one is a tougher call, but I tend to give boxers the edge over Thai boxers. Not sure why that seems to be my experience watching UFC fights, but if this stays standing, I think
Philippou drags this to decision by keeping Ring at a distance.
Featherweight Bout: Mark Hominick v. Pablo Garza
One man in the media described this as a "loser leaves UFC" match because of the two's losing steaks, and I buy into that. Neither man has really shown a reason to stay in the company.
Neither is very impressive, but Hominick is not only in his homeland, but he's in slightly more dire straits (three-loss streak instead of two). As such, I have to go with the veteran
Hominick by submission in Round 1.
Because 90 percent of you
stopped paying attention
FX Undercard Bouts
Middleweights: Patrick Cote v. Alessio Sakara -
Sakara needs the win, but Cote has looked much better recently. I'm going with Cote by decision.
Light Heavyweights: Cyrille Diabate v. Chad Griggs -
Griggs did not look great last fight, but Diabate is falling out of his prime where Griggs is still in his. Moreover, the man who stopped Bobby Lashley has a slightly (slightly) more impressive resume, so I'll give him a decision win.
Lightweights: Mark Bocek v. Rafael dos Anjos
- Bocek's Kempo background makes him slightly more well-rounded of a fighter, so I say he keeps it standing and wins by KO 3.
Lightweights: Sam Stout v. Jon Makdessi -
This fight exists to be a stand-up duel: Kickboxer against Shotokan black belt, and neither seem that great on the ground. Makdessi should be more desperate with his two-loss streak and Stout always feels inconsistent, so I'll go Makdessi by decision.
No, the photos are staying
G-rated.
Facebook Undercard Bouts
Featherweights: Antonio Carvalho v. Rodrigo Damm -
I'll call it a hometown squash. Carvalho by Submission Round 2.
Welterweights: John Maguire v. Matt Riddle -
Maguire wants a win back after slipping up against John Hathaway, so I give him the edge by decision in a close fight.
Bantamweights: Ivan Menjivar v. Azamat Gashimov -
I love watching Menjivar fight. I have him picking up a KO 1 victory in what feels like a feeding.
Featherweights: Andrew Elkins v. Steven Siler -
Both men are on a bit of a run lately, but Siler impressed me on a UFC on FX card. I like what I saw from his ground work, so I'll take him by Submission in Round 1.
OK, this was a long one, but I hope you watch and enjoy these fights. Thirteen is a lot, but all the matches seem pretty solid and this should be a fun watch.
Here's to my next 100 blogs!
Follow me at
twitter.com/seantherebel
and Like my page at
www.facebook.com/SeanNetworkBlogs
.