Since this event is in England, I really don't have much time to go in-depth, but I figured that I should give my picks for today's UFC card.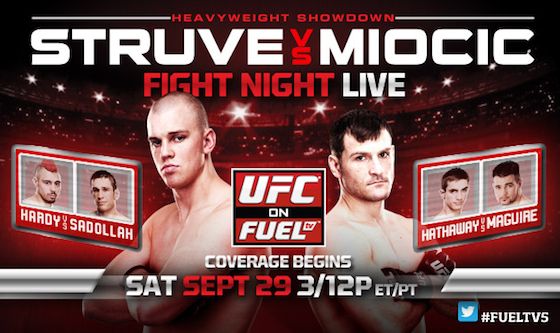 Stefan Struve and Stipe Miocic are two excellent heavyweights with a lot of height. This fight may very well be one of the more fun fights of the year due to their very aggressive styles.
I am actually looking forward to the main event tonight, and I will go with the man who takes big blows and keeps coming,
Stefan Struve, to win by KO 2.
Co-Main Event: Dan Hardy v. Amir Sadollah (Welterweight bout)
I'll be taking
Hardy by decision
in this one due to his greater power, his home nation advantage and Sadollah's transparently defendable game plan. Hopefully there is an evolution in his game, but we'll see.
Rest of the main card
Welterweights: John Maguire v. John Hathaway -
I'm taking Maguire on his more consistent success by Submission in Round 1.
Bantamweights: Yves Jabouin v. Brad Pickett -
Home-field advantage and standup help Pickett by decision
Lightweights: Paul Sass v. Matt Wiman -
Sass will go to the ground but not be able to lock in a submission. He'll be on the bottom too long and judges will give it to Wiman.
Welterweights: Duane Ludwig v. Che Mills -
I enjoy me some Che Mills. I have him by KO 1.